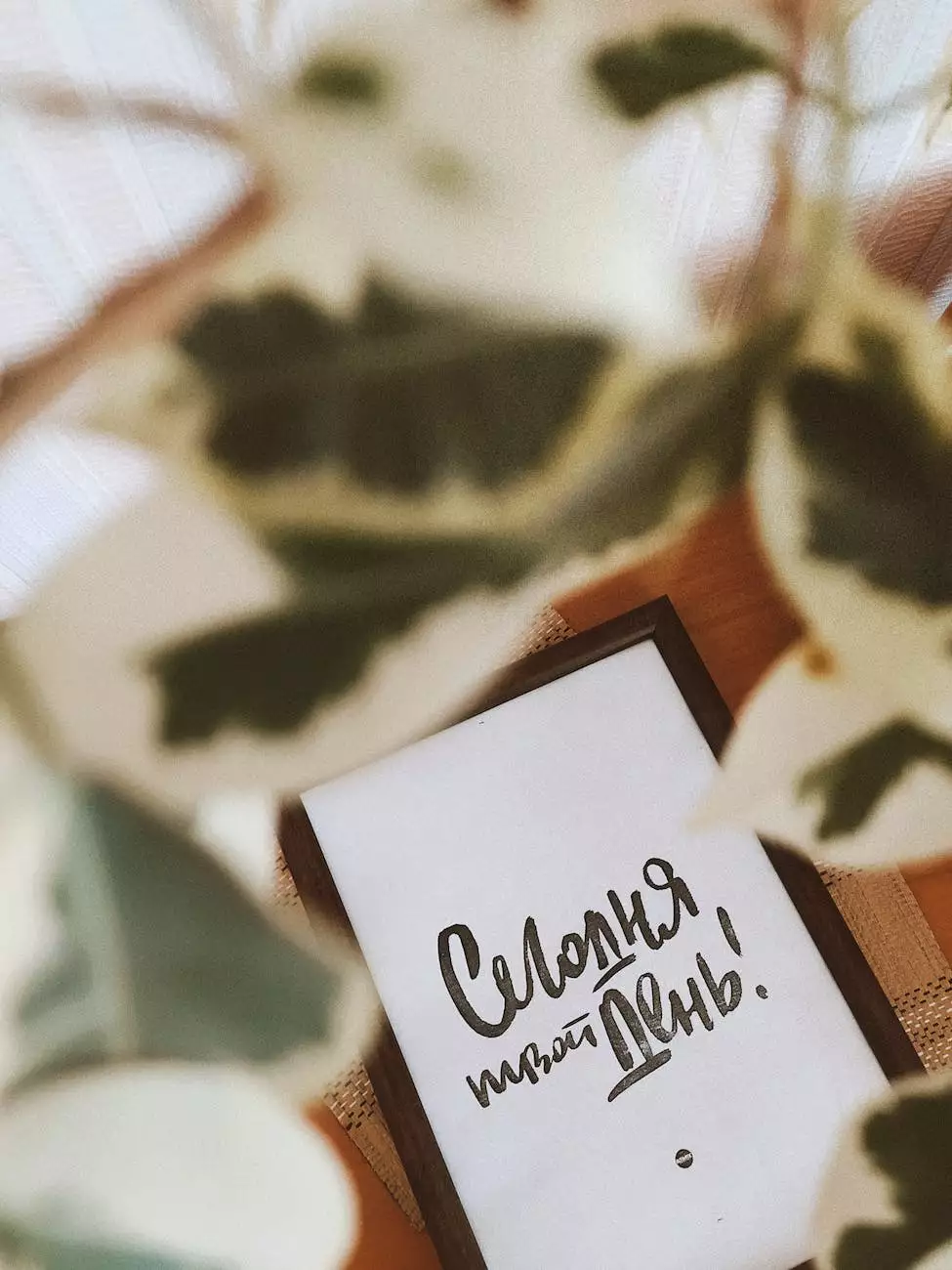 The Importance of Meaningful Marketing
Madison Niche Marketing understands the significant role that meaningful marketing plays in today's competitive business landscape. In an era where consumers crave more authentic and personalized experiences, marketers need to go beyond superficial tactics and truly connect with their target audience. By deepening the meaning behind marketing efforts, businesses can establish strong emotional connections, build brand loyalty, and drive sustainable growth.
Understanding the Core Principles
At Madison Niche Marketing, we firmly believe in the power of aligning marketing strategies with core principles. Our team of experts understands the importance of identifying and articulating your brand's values, mission, and unique selling proposition. By integrating these core principles into every aspect of your marketing efforts, we help you create a cohesive and authentic brand experience that resonates with your target market.
The Role of Storytelling in Marketing
Storytelling is an essential element in marketing that allows businesses to communicate their brand's values and connect with their audience on a deeper level. Madison Niche Marketing specializes in crafting compelling narratives that evoke emotions and engage customers. Through our tailored storytelling strategies, we bring your brand's story to life, creating lasting impressions that differentiate you from competitors.
Building Consumer Trust through Transparency
In an age of information overload, consumers place a premium on transparency and authenticity. Madison Niche Marketing helps businesses build trust by fostering open and honest communication with their target audience. We assist in delivering transparent messages, building credibility, and establishing your brand as a trustworthy authority in your industry.
The Power of Personalization
In the digital age, consumers expect personalized experiences that cater to their individual needs and preferences. Madison Niche Marketing understands the importance of tailoring marketing efforts to specific target segments. By implementing data-driven strategies, we help you understand your audience at a deeper level, enabling you to deliver personalized content, products, and services that resonate with their desires and aspirations.
Unleashing Creativity through Innovation
Innovation is a driving force behind effective marketing. At Madison Niche Marketing, we encourage businesses to think outside the box and embrace creative strategies that set them apart from competitors. By nurturing a culture of innovation, we help you discover new ways to engage your target audience, spark their curiosity, and build meaningful connections.
Delivering Measurable Results
At the heart of our approach is the focus on delivering measurable results. We believe in combining creativity with data-driven strategies to optimize your marketing efforts. By leveraging advanced analytics tools, we track and analyze key performance indicators to ensure that your marketing campaigns are not only meaningful but also effective in achieving your business objectives.
Choose Madison Niche Marketing for Meaningful Marketing
Unlock the true potential of your marketing efforts with Madison Niche Marketing. As the industry leaders in meaningful and effective marketing, we specialize in helping businesses deepen their marketing strategies to create lasting connections with their target audience. Contact us today to discuss how we can help you achieve your marketing goals and redefine your brand's meaning in the digital landscape.