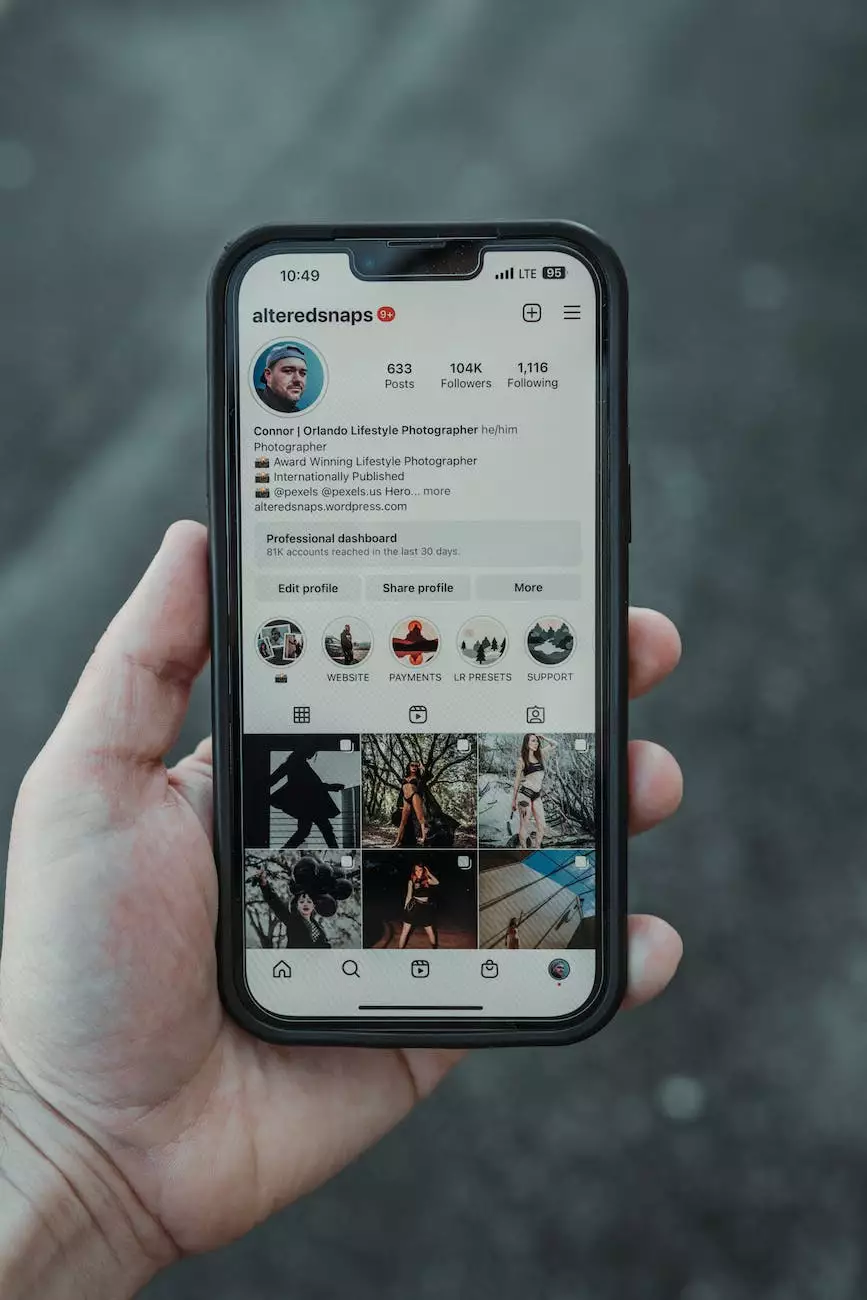 Introduction
Welcome to Madison Niche Marketing's comprehensive guide on advertising your business on Instagram! In today's digital age, it's crucial for businesses in the Business and Consumer Services - Digital Marketing industry to leverage social media platforms effectively. Instagram, with its vast user base and user-friendly interface, provides businesses with immense potential for reaching and engaging with target audiences. In this guide, we will walk you through the ins and outs of advertising on Instagram and equip you with valuable tips to outrank your competitors on Google search results.
Why Advertise on Instagram?
Instagram, with over a billion active users, offers an unparalleled opportunity for businesses to showcase their products or services, build brand awareness, and drive conversions. Its highly visual nature makes it perfect for businesses in industries like fashion, beauty, food, and travel, where visually compelling content plays a significant role in attracting customers.
Setting Up Your Instagram Advertising Campaign
Before diving into Instagram advertising, it's crucial to establish clear objectives for your campaign. Are you looking to increase website traffic, generate leads, boost sales, or enhance brand visibility? Defining your goals will help you develop a focused and effective advertising strategy.
1. Create a Business Profile
To advertise on Instagram, you need a business profile. If you already have a personal account, consider converting it into a business profile to access additional features like contact buttons, Instagram Insights, and the ability to advertise directly within the app.
2. Understand Your Target Audience
Knowing your target audience is essential for successful Instagram advertising. Take the time to analyze your existing customer base and gather insights about their demographics, interests, and behaviors. This will help you tailor your ad content to resonate with your target audience.
3. Define Your Budget
Effective budget management is crucial for any advertising campaign. Determine how much you are willing to spend on Instagram ads and allocate your budget strategically across different ad formats and targeting options.
Creating Compelling Instagram Ads
Now that you've laid the groundwork, it's time to create captivating Instagram ads that will grab the attention of your target audience. Keep the following tips in mind:
1. Use High-Quality Visuals
Instagram is a visual platform, so make sure your ad images or videos are of the highest quality. Captivate viewers with stunning visuals that accurately represent your brand and offerings.
2. Craft Engaging Ad Copy
While visuals are vital, don't forget about the power of words. Craft compelling ad copy that highlights the unique selling points of your products or services. Use persuasive language, focus on benefits, and include a strong call-to-action.
3. Leverage Instagram's Ad Formats
Instagram offers a variety of ad formats to suit your advertising goals and creative preferences. Experiment with carousel ads, story ads, shoppable posts, and video ads to keep your content fresh and engaging.
Targeting and Optimization
To outrank your competitors and maximize the impact of your Instagram ads, it's crucial to leverage targeting and optimization techniques:
1. Utilize Audience Targeting Options
Instagram provides robust targeting options based on demographics, interests, behaviors, and even custom audiences. Fine-tune your targeting to ensure your ads reach the right people at the right time.
2. Test and Optimize Ad Campaigns
Don't settle for average results. Continuously test and optimize your ad campaigns to improve performance. Experiment with different ad variations, audiences, and placements to fine-tune your strategy and achieve better ROI.
3. Monitor Analytics and Insights
Stay informed about the performance of your Instagram ad campaigns by regularly monitoring analytics and insights. Instagram's built-in analytics tool, Instagram Insights, provides valuable data on impressions, reach, engagement, and audience demographics.
Conclusion
Advertising on Instagram is a powerful tool for businesses in the digital marketing industry. By following this cheat sheet and implementing the strategies we've outlined, you'll be able to enhance your Instagram advertising game and outperform your competitors in Google search rankings. Remember, delivering high-quality, visually appealing, and well-targeted ads is key to capturing the attention of your target audience and driving business growth on Instagram. Get started today and watch your Instagram advertising soar!